Tata Sons Pvt. ltd and AIR INDIA Disinvestment
Tata Group is an Indian multinational conglomerate manufacturer of automobiles, airplanes and other products, headquartered in the city of Mumbai, India. Founded in 1868 by Jamshedji Tata, the company gained international recognition after purchasing several global companies. It is one of the biggest and oldest industrial groups in India. Each Tata company operates independently under the guidance and supervision of its own board of directors and shareholders. Recently, the government approved the highest price bid of Talace Pvt Ltd, a wholly owned subsidiary of Tata Sons Pvt. Ltd for sale (Disinvesting) of 100% equity shareholding of Government of India in Air India (AI).
The Tatas will own 100% stake in AI, as also 100% in its international low-cost arm Air India Express and 50% in the ground handling joint venture, AI SATS.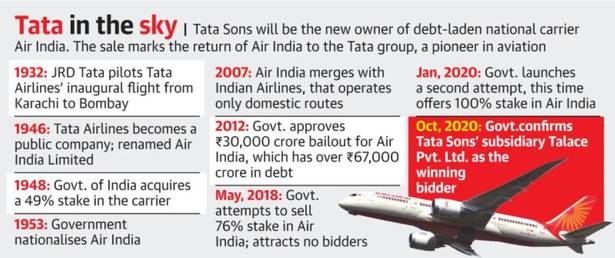 Key Points
Reasons for Disinvestment:


It is hoped that with AI passing into the private sector, its operations and costs will get streamlined, services on board will improve and basic services like wi-fi will also be made available.
A strong international carrier in India will give a boost to the large airports built in Delhi, Hyderabad, Mumbai and Bengaluru which along with AI will be able to win back some of the tourist dollars from Indians travelling abroad who are currently travelling on foreign carriers.
A successful turnaround of Air India could also help the Indian economy as it is a well-established fact that aviation has a multiplier effect on the economy.
There is a pressure on the government to raise resources to support the economic recovery and meet expectations of higher outlays for healthcare.

Significance:


It will save taxpayers money from paying for daily losses of AI.
It will help push other tough decisions the government is keen on taking.
It will possibly give the option of flying one more low-cost carrier domestically.
Disinvestment
Disinvestment means sale or liquidation of assets by the government, usually Central and state public sector enterprises, projects, or other fixed assets.
The government undertakes disinvestment to reduce the fiscal burden on the exchequer, or to raise money for meeting specific needs, such as to bridge the revenue shortfall from other regular sources.
Strategic disinvestment is the transfer of the ownership and control of a public sector entity to some other entity (mostly to a private sector entity).


Unlike the simple disinvestment, strategic sale implies a kind of privatization.

The disinvestment commission defines strategic sale as the sale of a substantial portion of the Government shareholding of a central public sector enterprises (CPSE) of upto 50%, or such higher percentage as the competent authority may determine, along with transfer of management control.
The Department of Investment and Public Asset Management (DIPAM) under the Ministry of Finance is the nodal department for the strategic stake sale in the Public Sector Undertakings (PSUs).
Strategic disinvestment in India has been guided by the basic economic principle that the government should not be in the business to engage itself in manufacturing/producing goods and services in sectors where competitive markets have come of age.


The economic potential of such entities may be better discovered in the hands of the strategic investors due to various factors, e.g. infusion of capital, technology up-gradation and efficient management practices etc.
History of Air India

J. R. D. Tata founded Tata Airlines in 1932 as a division of Tata Sons Ltd. (now Tata Group).
After World War II, regular commercial service in India went back to normal, Tata Airlines changing its name to Air India and becoming a public limited company on the 29th of July 1946.
On the 8th of June 1948, Air India introduced a regular service from Bombay to London, and two years later, Air India started regular flights to Nairobi.
In 1954, with the delivery of its first L-1049 Super Constellations, Air India inaugurated services to Tokyo, Bangkok, Hong Kong and Singapore.
In 1960, with the introduction of the first Boeing 707-420 aircraft, Air India started using jets, and two years later, in June 1962, it became the world's first all-jet airline.
In 1970, Air India moved its offices to downtown Bombay.
In 1986, Air India took delivery of the Airbus A310-300, being at that moment the largest operator of this type in passenger service.
In 1988, the company started using two Boeing 747-300Ms in a mixed passenger-cargo configuration.
In 1993, Air India's first Boeing 747-400, named Konark, operated the first non-stop flight between New York City and Delhi.
After a five-year absence from Amsterdam, twice-a-week flights were introduced from Mumbai (via New Delhi and Frankfurt), on the 3rd of December 1995.
In 1996, Air India started using its second US gateway at O'Hare International Airport in Chicago.
May 28, 1997 marks the date when Air India came online, its official website being www.airindia.com. Later on, on the 1st of November, a major global alliance tied Air India and Air France.
Two years later, in 1999, the airline opened its dedicated Terminal 2-C at the newly renamed Chhatrapathi Shivaji International Airport in Mumbai.
Services to Shanghai and to Air India's third US gateway at Newark Liberty International Airport in Newark were introduced in the year 2000.
Starting with 1st of November 2001, Air India launched its Frequent Flyer program ("Flying Returns") for the Canada, UK and USA routes.
On the 20th of March 2003, Air India dedicated several special flights to Kuwait, with the purpose of evacuating Indian citizens from Iraq.
The year 2003 had another two events important for the airline's history. Thus, on the 12th of July, a Global Call Centre for UK and USA was inaugurated in Mumbai. Secondly, on the 11th of December, Air India started operating flights to Shanghai through Bangkok.
A strategic alliance was signed on the 10th of August 2004 with Lufthansa.
A year later, in April 2005, was launched Air India Express – Air India's low cost airline. Later on, in June, the advance check-in facility became available in Mumbai, at Air India building (Nariman Point).
On the 27th of June 2007, Air India initiated its Cargo service. By the end July, the airline started carrying non-stop flights to USA.
Air India was invited to join the Star Alliance in December 2007, and was set to become a full member in 2010. However, by August 2011 it was considered that Air India did not meet the minimum standard requirements for membership, so the invitation was postponed.
The 1st of June 2008 marks the date when Air India became 100& electronic ticket compliant.
On the 29th of March 2009, Air India made Frankfurt Airport its European Hub for its transatlantic North American Operations. In the same years, on the 1st of December, the daily non-stop flight on the Delhi – New York route was extended to Washington.
Although Air India did not carry any flights to Egypt, a special exception was made on the 12th of March 2011, when 36 flights were dispatched to evacuate 11.345 stranded Indian civilians from Cairo. This extraordinary measure was taken as a result of the unstable political climate in Egypt.
2012 was a year of significant economic loss, and this influenced the airline's status on the Indian aviation market, placing it in the fourth place, behind Jet Airways, IndiGo and Spicejet.
In 2013, Air India cleared some of its debts by selling and leasing back the newly acquired Boeing 787 Dreamliners. Also, as a part of the financial restructuring, the airline sold five of its eight Boeing 777-200LR aircraft to Etihad Airways.
In July 2014, Air India became the 27th member of Star Alliance. A Boeing 787 Dreamliner, a Boeing B777-300 and an Airbus A320-200 were painted with special Star Alliance livery.
In 2015, the Maharajah, Air India's mascot adopted in 1946, was given a makeover, the brand being represented by a younger version.
In October 2016, Air India changed the Delhi – San Francisco route previously operated over the Atlantic Ocean to flying over the Pacific Ocean, in order to take advantage of jet stream winds and use less fuel. With the total flown distance being over 15,200 kilometres (9,400 miles), Air India operated the world's longest non-stop regular scheduled commercial flight.
In February 2017, Air India took delivery of its first Airbus A320neo (new engine option) and plans to lease 13 more such re-engined narrowbody planes this year. The new A320neo aircraft is configured in two classes, Economy Class and Business Class.
In 2018, the Indian government tried to privatize Air India by selling 76% of its stake in the national carrier but failed because no private-sector buyer expressed interest in the state-owned airline.
In January 2020, the Indian government approved a new proposal to divest 100% stake in Air India, which will be followed by the Expression of Interest (EoI) document to be issued this month.
Since its operations were initiated, Air India managed to achieve a record of about 6.82 fatal events per million flights. First such accident happened in November 1950, all 48 people on board dying, and the last one on the 23rd of June 1985, when a Boeing 747-237B was blown up in mid-air by a suitcase-bomb and all 307 passengers and 22 crew on board perished.