Stubble Burning: Need A Way Forward
Stubble Burning: Need A Way Forward
Every year the northern region of India faces the grim problem of rising pollution mainly due to stubble burning in states like Haryana, Uttar Pradesh and Punjab. This fetches a thick layer of smog to cities like Delhi, which is already choking from local sources of pollution.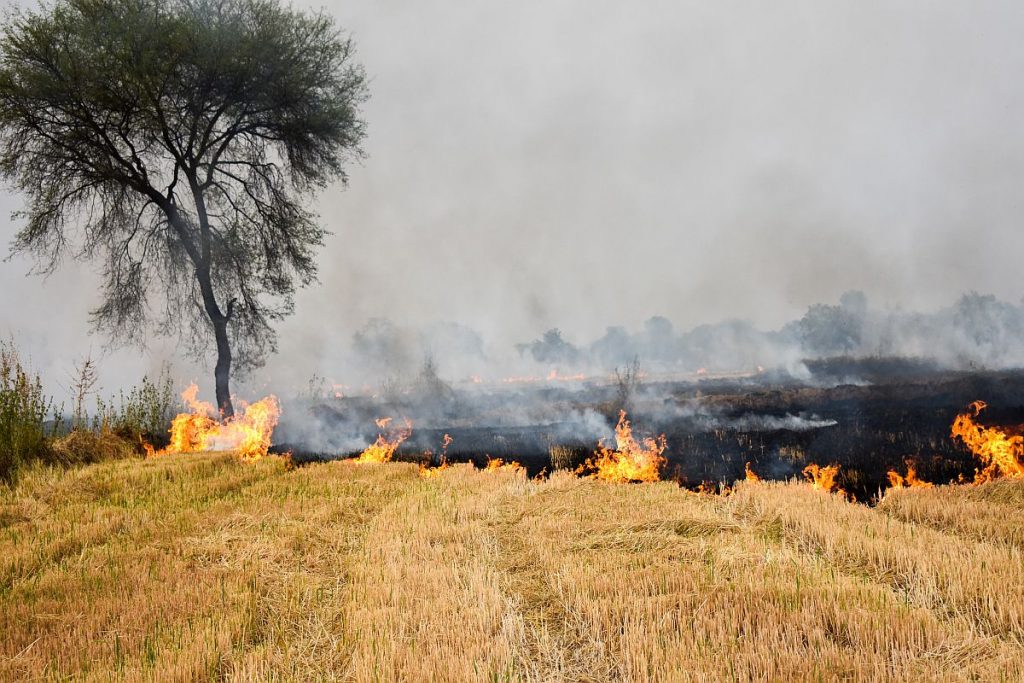 As the Supreme Court has noted, this polluting endangers the Right To Life because it significantly reduces the lifespan of a human being.
Moreover, this year the outbreak of Coronavirus pandemic is threatening to make this situation even worse as an increase in air pollution is causing a surge in Coronavirus cases.
So, now we need to first understand why farmers have to set fire to their crop residue?
Well, the main reason is the use of mechanised harvesting which leaves several inches of stubble in the fields.
Earlier, this stubble was used by farmers for cooking, or as hay to keep their animals warm or even as extra insulation for homes. But, now the use for such purposes has become outdated and hence, farmers resort to the cheapest and quickest method for getting rid of it i.e., burning the stubble in the crop fields itself.
But, the effects of stubble burning are dreadful. Open stubble burning emits large amounts of toxic pollutants in the atmosphere which contain harmful gases like methane (CH4), carbon monoxide (CO), volatile organic compounds (VOC) and carcinogenic polycyclic aromatic hydrocarbons. After being released in the atmosphere, these pollutants disperse in the surroundings, undergo physical and chemical transformations, and eventually adversely affect human health by causing a thick blanket of smog.
Burning of stubble can also be a nightmare for farmers too since it significantly reduces soil fertility by destroying the nutrients. The heat generated by stubbleburning penetrates into the soil, leading to a tremendous loss of moisture and helpful microbes.
Thus, an alternate approach to stubble burning needs to be adopted by farmers. Here, both farmers and the government need to explore the Chhattisgarh Model.
The Chhattisgarh model is an innovative experiment that has been undertaken by the Chhattisgarh government which involves the setting up of gauthans.
A gauthan is a dedicated five-acre plot, held in common by each village, where all the unused stubble or parali is collected through parali daan (people's donations) and is converted into organic fertiliser by mixing with cow dung and a few natural enzymes.
The scheme also generates employment for the rural youth. The government supports the transportation of parali from the farm to the nearest gauthan and Chhattisgarh has successfully developed 2,000 gauthans till now!
A similar approach in more rural areas can prove to be beneficial for farmers as well as the environment. Further, state governments can go for a combination of incentivisation and prosecution. Give incentives to farmers who use eco-friendly methods to get rid of stubble and penalise the ones who do not.
Also, a behavioural change is also needed to achieve this goal. Farmers need to be educated and informed about how stubble burning poses a threat to human life as well as the fertility of the soil and should be encouraged to adopt eco-friendly technologies.
However, lack of political will and action, and even weaker implementation, remain a hurdle to the path of a clean environment, especially in North India. If the prevailing policies continue, then we are not far from the day when air in the national Capital simply becomes too hazardous to breathe. There is, as such, a strong need for a collaborative effort by the government, NGOs and the citizens (especially farmers) to eliminate stubble burning altogether and replace it with an eco-friendly and employment generating model.